Extraocular muscle enlargement: rare presentation of plasmablastic lymphoma
Mridula Jacob

Department of Ophthalmology, Kasturba Medical College, Manipal University, Manipal

Vijaya Pai H.

Department of Ophthalmology, Kasturba Medical College, Manipal University, Manipal, India
Keywords:
extraocular muscle enlargement, HIV, NHL, plasmablastic lymphoma
Abstract
Plasmablastic lymphoma (PBL) is a very rare and highly aggressive variant of non-Hodgkin lymphoma. It is usually seen in the oral cavity of human immunodeficiency virus (HIV)-affected individuals. Very few cases of PBL are reported in the orbit till date. Morphologically and immunologically, it can mimic plasma cell myeloma. It is highly fatal and poses diagnostic and therapeutic challenges to the treating clinician. This scenario makes reporting of such rare tumors more relevant. We report a rare case of PBL of the orbit in a 49-year-old HIV-positive lady who presented with acute onset of painful proptosis and loss of vision in her left eye.
References
Christopher MN, Christopher DJ, Andrew JN, et al. Primary orbital lymphoma. Hematol J. 2002;3:14-16.
Mulay K, Ali MJ, Reddy VA, et al. Orbital plasmablastic lymphoma: a clinic pathological correlation of a rare disease & review of literature. Clin Ophthalmol. 2012;6:2049-2057.
Eckardt AM, Lemound J, Rana M, Gellrich N-C. Orbital lymphoma: Diagnostic approach and treatment outcome. World J Surg Oncol. 2013;11:73.
Corti M, Minué G, Campitelli A, et al. An aggressive plasmablastic lymphoma of the oral cavity as primary manifestation of acquired immunodeficiency syndrome: case report and literature review. Int Arch Otorhinolaryngol. 2015;19:354-358.
Valenzuela AA, Walker NJ, Sullivan TJ, et al. Plasmablastic lymphoma in the orbit – case report. Orbit. 2008;27:227-229.
Barkhuysen R, Merkx MA, Weijs WL, et al. Plasmablastic lymphoma mimicking orbital cellulitis. Oral Maxillofac Surg. 2008;12:125.
Watkins LM, Carter KD, Nerad JA. Ocular adnexal lymphoma of the extraocular muscles: case series from the University of Iowa and review of the literature. Ophthal Plast Reconstr Surg. 2011;27:471-476.
Castillo JJ, Bibas M, Miranda RN. The biology and treatment of plasmablastic lymphoma. Blood. 2015;125(15):2323-2330.
Veqa F, Chanq CC, Medeiros LJ, et al. Plasmablastic lymphomas and plasmablastic plasma cell myelomas have nearly identical immunophenotypic profiles. Mod Pathol. 2005;18:873.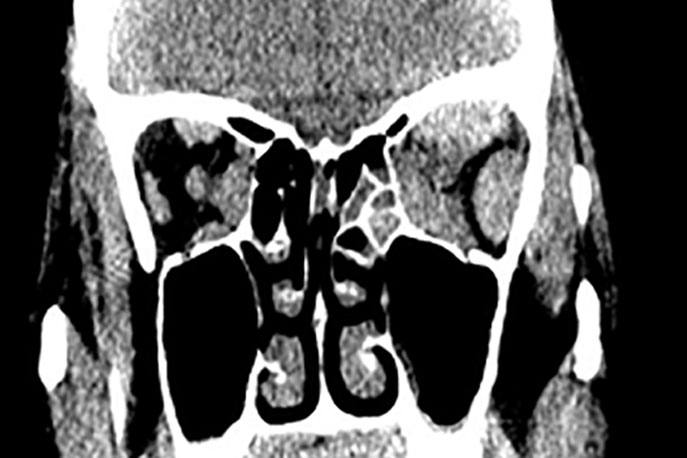 How to Cite
Jacob, M., & Pai H., V. (2019). Extraocular muscle enlargement: rare presentation of plasmablastic lymphoma. Asian Journal of Ophthalmology, 16(4), 293-297. https://doi.org/10.35119/asjoo.v16i4.357
Section
Case Reports/Case Series
Copyright (c) 2019 Mridula Jacob, Vijaya Pai H.
This work is licensed under a Creative Commons Attribution 4.0 International License.
Authors who publish with this journal agree to the following terms:
Authors retain copyright and grant the journal right of first publication, with the work twelve (12) months after publication simultaneously licensed under a Creative Commons Attribution License that allows others to share the work with an acknowledgement of the work's authorship and initial publication in this journal.
Authors are able to enter into separate, additional contractual arrangements for the non-exclusive distribution of the journal's published version of the work (e.g., post it to an institutional repository or publish it in a book), with an acknowledgement of its initial publication in this journal.
Authors are permitted and encouraged to post their work online (e.g., in institutional repositories or on their website) prior to and during the submission process, as it can lead to productive exchanges, as well as earlier and greater citation of published work (See The Effect of Open Access).